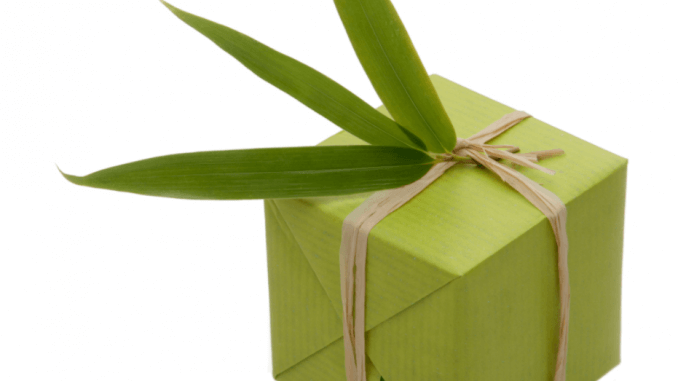 You do not have to sacrifice what matters most to you when being environmentally friendly with the traditional holidays and celebrations that are important to you. First, set yourself realistic goals and make more changes next year.
Holidays and celebrations can create a waste of resources in money, time, energy and more. Look for alternatives for this waste. You may find that talking with friends, family members, and co-workers that you can share ideas and make changes collectively. There may be holidays and celebrations that cause you to stress. Simply ask if the stress is necessary and what you can do to change the situation to reduce or remove the stress.
Green your gift giving
Shop sustainably for all your gifts. Continue your green efforts by wrapping the gift in fabric gift wrap or other creative gift wrap ideas rather than shop bought gift-wrap.
If you want help with shopping sustainably, connect with family and friends and get everyone involved in your community to find out how sustainability will help you build on the eco-friendly holidays and celebration ideas you already have now.
Valentine's Day
Make your own card, or write a list of all the things you love about the special person in your life. Instead of a bunch of cut flowers, grow a tree together to symbolise your relationship's strength and endurance, or plant a rose bush. Choose fair-trade, organic chocolate that is easy to find. And create a romantic meal at home of your favourite foods.
Thanksgiving / Christmas
This is the time to enjoy the connection and love between family and friends. Take turns sharing what you are thankful for, enjoy each other, play music, talk and laugh. Opt for an organic, local and free-range meal. You can decorate your home with food and natural resources like twigs and berries that can be composted later.
Why not donate your time with a local shelter feeding the homeless, it may impact your life in such a way that this becomes a regular practice for you and your family.