Sherbet Pip
Based in a small village in Bedfordshire, the team at Sherbet Pip have one passion – sweets.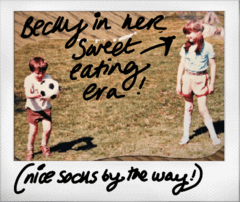 Set up in January 2013 by Becky Patterson, the company sells creative gifts with a confectionery theme.
"Ask anyone what sweets they ate as a child and you bring the memories flooding back – not just of half-forgotten brands but of people, places and events," Becky says.
"Everyone has stories about the shopkeeper, how much pocket money they had to spend, the bike ride to the shop and the taste of their favourite brands. When you give someone a gift of sweets, especially a selection from their childhood era, you are not just giving a product, you are enabling them to relive those wonderful carefree days.
"It was listening to other people get so nostalgic about sweets that inspired me to launch Sherbet Pip, named after my own favourite."
Sherbet Pip sells sweet-inspired jewellery, themed hampers, gift bags – oh, and sweets.
Not Tea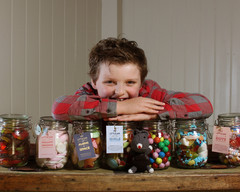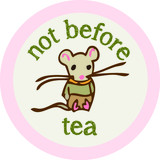 This is the children's range at Sherbet Pip created and designed by nine year old Henry Patterson.
Henry designed the product range, came up with idea for the logo and decided on the name for the business based on his mother's response whenever he asks her for sweets.
"No one knows the type of sweets that children like better than a child," says Henry.
"Sweets must be as fun as toys and do stuff," he adds. As well as ensuring that each jar was an adventure in its own right, Henry set out to solve the biggest problem with confectionery – how to soften the blow when the sweets are all gone. Most of the Not Before Tea products come with glass pens to decorate the jars.
Henry also includes reward stickers for grown-ups to give children to make sure they clean their teeth. "I hate cleaning my teeth after I have eaten sweets but love getting stickers at the dentist. That's how I got the idea," he says.
Henry has plans for Not Before Tea to go solo before his tenth birthday!
Read his story here, told to The Daily Mail: https://www.sherbetpip.co.uk/blogs/news